All professionals at Smile Institute of Family Dentistry maintain the highest levels of accreditation and pursue ongoing education to stay abreast of the latest trends in the medical field. Read on to learn more about our Dental Professionals' experience and training.
Dr. Airiga Tucker Mims
My goal is for my patients to receive individual attention and care. My desire is to remove the tarnish of past unpleasant dental experiences by creating an experience that is individualized and encompasses patient appreciation and value.
I am a dental patient also. I will never forget visiting the dentist as an adolescent and needing to have dental anesthesia. I was so scared of going to the dentist. One particular visit I recall as if it were yesterday. I was numbed on the roof of my mouth. I gasped for air and held my breath. The needle was excruciatingly painful. I gripped the arm rests of the dental chair and felt my heart beating hard and fast in my chest. I remember as the tears streamed down my face, the dentist and his assistant did nothing to comfort me. I felt like I wasn't a person. I felt like I had no value. This particular experience heightened by dental fear to an even greater level. However, as I studied at Marquette University School of Dentistry, I didn't realize how impactful my past dental experiences would shape my practice philosophy.
I never want any of my patients to feel how I felt going to the dentist. Not only am I committed to delivering the highest quality of care, I am gentle and want my patients to feel comfortable when receiving care. My patient's care begins not just in the dental chair but well before that. Their experience on the phone, how they are greeted at the reception desk and engaged by our team of dental professionals is important and helps shape my patients care and experience. It is very important that all of my patients feel that they are our special guests and that all of our attention is on them.
We offer a comfort menu that includes minimal sedation, complimentary soft comfort blankets and massage chairs, just to name a few.
I have been practicing dentistry since 2003. I absolutely love meeting the oral health care needs of my patients. I received a baccalaureate degree in Biological Sciences from the prestigious Hampton University in Hampton, Virginia. I attended the well-respected and top-ranking Marquette University School of Dentistry where I earned a Doctor of Dental Surgery degree. After completing my dental school education, I held a teaching position at Columbus Technical College in Columbus, Georgia, teaching oral pathology and biochemistry. My practice philosophy surrounds continuing my dental education with the focus on clinical expertise, implementing tools for practice management and ongoing team training. I am a member of Spear Academy, the American Dental Association, Wisconsin Dental Association, Greater Milwaukee Dental Association.
I am married to Jason and a mama of two amazing sons, Joshua and Caleb. I enjoy cooking and traveling.
---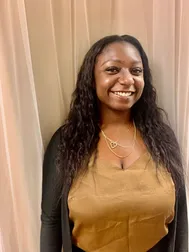 Breannah - Practice Manager
In the beginning of March 2022, I joined The Smile Institute of Family Dentistry as the Practice Manager. I graduated with my degree in healthcare management in 2020. I've been apart of the dental field for many years and enjoy every part of it.
I am thrilled to be a part of the team; I can't wait to grow and learn with the patients as I have with my team members since my first day.
When I was younger, I used to cry because I was only seeing my dentist twice a year. I enjoyed going to the dentist so much that I wanted to see them more than the recommended time. I loved (and still love) receiving cleanings because of the yummy gum tasting prophy paste and the free goodies I received after my visits. I was the only child out of my siblings with no cavities, and you better believe that I bragged about it. I fell in love with teeth and smiles at a very young age. To me, the smile and health of teeth (besides my eyebrows) is the most important aspect of my face.
I strive for excellence and believe our patients deserve the best care there is. I enjoy easing patient's mind when they walk through the door, because the dentist can feel like a scary place. I've always enjoyed educating patients on dental products, explaining insurances, and discussing their treatment plans.
I am here to help and make your appointment pleasant and easier. I can't wait to meet you!
---
Ashley - Registered Dental Hygienist
I'm excited to have joined the Smile Institute of Family Dentistry team. My purpose is to educate patients about their oral health and watch them gain more self-confidence with their smile. Growing up I enjoyed going to the dentist, especially for the goodie bag at the end of my visit.
I realize many do not share the same excitement of visiting the dentist but here at Smile Institute of Family Dentistry, we pride ourselves on making your visit a comfortable one. I cannot wait to have you in my chair to educate, improve and maintain that beautiful smile.
---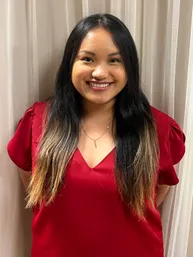 Paxolai - Practice Assistant
I am excited to be a part of the Smile Institute of Family Dentistry team. I can't wait to work with patients and learn more about the dental field. I am currently working towards becoming a dental hygienist.
Growing up, I was very insecure about my teeth and always tried to hide it. I did not laugh often, which made people think I was always angry. Being insecure about my teeth made me obsessed with teeth. I am always thinking about teeth. I even have teeth nightmares. I have three kids, Leonidas, Beckham, and Cherish. Besides my obsession with teeth, I am also interested in psychology.